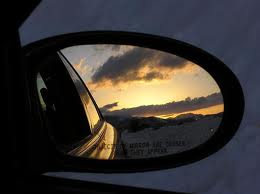 One thought, one action that is what it takes to step out of that dark place. When we've been walking and living on the dark side we hear people say "Best thing I've ever done, I've never looked back."
While leaving my violent abusive world was the best thing I have ever done I do look back and I think it's important too for a couple of reasons.
As I said in One Thought, One Action I was scared and I feared everything…the unknown. You never forget your dark cloud so never think that you will because you won't. Embrace your dark cloud and every thought and every action you had while you were in it. You can't do that straight away it takes time, it took me years but its where freedom lies.
I can't say what its like for you but for me I looked back all the time at first because I was scared that he would be there or I would find myself in the similar situation again because I couldn't seem to escape it. But eventually over time you find yourself, you think for yourself and you begin to see the light…your light. And you know that it will never happen again as long as you embrace what was and love that person that is you…all you.
But that was then and this is now
It's important for us to stop and look back to be grateful, appreciate and proud of everything we have accomplished. It takes strength and determination at your weakest moment to change your life. Now I look back through grateful eyes that are filled with admiration and love for that little girl who suffered for so long and god love her for having the courage to change her life. My past fuels my passion to help others find freedom and be all they can be. I give love to every body…all you need is love.
How did I step out and change my life?