One Day I Have a Business The Next Day A Brain Tumour
# A guest post by Jo Stojkovic as a part of the How Real People Bust Out a series of guest contributors sharing their journey's.
Who am I? My name is Jo Stojkovic and in a nutshell, much of my life is about my beautiful children, natural health & beauty, running a successful skincare business, contributing to those in need and the law of attraction. My journey to this point is the interesting part. I arrived at this destination thanks to a frightening diagnosis.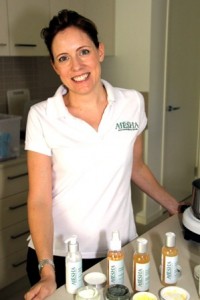 I have two delightful children so being a mum is one the most important and enjoyable roles I have. Otherwise most of my hours are spent running a successful skincare manufacturing company – Aiesha.
How did I end up with my own business? I studied business to postgraduate level and by the age of 30 had become Acting CEO of a multi-million dollar company. But real success came for me when I gave it all away and studied Cosmetic Chemistry before establishing my own manufacturing company that to this day provides incredible benefit to women. Now I have the joy of working aroun d my children and being of great service to women. That is real joy!
On a far more personal level, I am living with a brain tumour that was diagnosed almost five years ago. Now I am medicated and live a relatively normal life but it started out as a horrific diagnosis. I could have lost my unborn baby at 26 weeks as well as my vision. The news came as an almighty wake up call and is the reason I turned my lifelong passion for natural health and beauty into my life and started my own business. I now eat, sleep and breath all things to do with Aiesha because Aiesha gives me the opportunity help women to keep and maintain the most precious gift there is – their health and happiness!
Why natural skincare products? My lifelong passion has always been natural beauty and health. Since a young age I have been deeply fascinated by how the body and mind responds to what we eat, how we move and generally how we treat ourselves. I have been fascinated to watch the ageing process of those around me (and myself included). Some ageing beautifully and some not as much. I marvel at that ageing process and how the choices we make dictate our radiance and health. Living with a brain tumour reminds me of how important those choices are. This is what drives my lifelong passion for understanding all things to do with obtaining radiant health and longevity. I believe that beauty and radiance comes when we care for our body, mind and soul.
One day I hope to spread that opportunity further afield by making a difference to the lives of women and children living in poverty. UNICEF states that 25,000 children die each day due to poverty. How is it that we don't do more? My journey is about making a difference in the lives of those who need it. For that I depend on success and with it the law of attraction. I believe all things happen for a reason – perhaps my reminder of the frailty of life was to steer me towards my life purpose.