Have You Ever Heard Someone Talking Behind Your Back?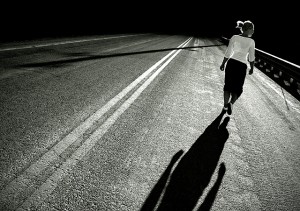 There is something compelling about watching someone trim a hedge; I bet you don't hear that everyday. In our tranquil new backyard we have two hedges side by side and my partner was trimming one and I was transfixed by it. Watching his actions and thought process about the best way for his vision to take place. How he thought the hedge should look and aware of my own thoughts I soon begun to wonder because a funny thing happened….
As I was watching him, he become aware that I was watching and automatically started to doubt what he was doing without any words being said. He naturally assumed I didn't like the way he was doing it and become defensive. As much as I said "No no, you're doing a great job and it looks fab" it didn't matter and he wanted me to do the other one. As my vision became clear on how I wanted the hedge to look I thought about the best and most efficient way to get it done, off I went. Once I was in my hedge cutting zone I become aware that he was now watching me with the same compelling look on his face and I too became conscience of what and how I was trimming the hedge. Not once did I look at the hedge next to mine and compare or judge, I was in the zone. However later it become apparent that there was a life lesson in that trimmed hedge.
Everyone has a vision in everything they do in life and it's important that we do listen to ourselves and create our own journey. Some people try and judge you and your actions, thinking their way is much better therefore yours is wrong, different or inferior. Mix that with how we tend to automatically think the worst, however as soon as you do get side tracked by other people's notions and potions and bright shiny objects you lose your vision and why you started in the first place.
Your vision, your voice! It is crucial that we speak in our own mind and embark on our own journey. Don't be so quick to assume people are thinking the worst and for those who do judge and inflict negative statements, believing that things have to be done a certain way at a certain time are just lost. They have been distracted by the bright shiny objects and lost their way.
A fear of failure
True brilliance comes from an empty mind, if you're thinking from your head space and not your heart space it's like looking at the world wearing someone else's glasses, it's distorted. Know your purpose and have a sense of direction, why do you do what you do?
Anger + Love= Passion
Live your dream not someone else's.