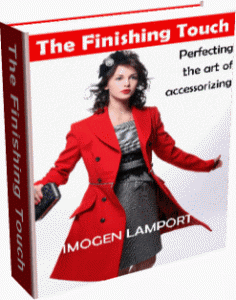 This is so not my forte I am the last person to put the finishing touches on my outfits. Since having children I don't wear any accessories for no other reason that when the girls were younger any jewellery I wore was soon pulled out and/or broken so I have never re entered the accessory arena. Until I recently read The Finishing Touch by Imogen Lamport owner of Bespoke Image & Inside Out Style Blog, this eBook has over 100 pages so you will discover the art of accessorising.
Imogen shows you actually how to complete your outfit according to your shape, your colouring, your personality and of course the occasion. She covers sunglasses, handbags, jewellery, shoes, hats and hair accessories in so much detail that you can't help but admire how much there is to know about accessorising and completing any outfit. The Finishing Touch eBook has fantastic illustrations that show you actually what you should and shouldn't be doing we you accessorise.  After reading The Finishing Touch I can honestly say it has inspired me to once again re think accessorising and motivated me to take that extra step to fine tune and finish my outfit.
For $19.95 it is jam packed full of value and information.