# Introducing ROCKMAMA, this new range of Maternity Tee's are very cool and so different from anything I have seen in a Maternity Range, so I had to share.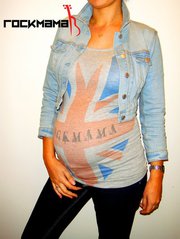 ROCKMAMA street chic tank's and tee's for your baby bump. ROCKMAMA designs are grunge, rock, eclectic, vintage, retro, and have a street style. The cut and design of the tees and tanks will have a perfect fit over your baby bump however setting us apart, our print designs have nothing to do with pregnancy at all, so you can enjoy wearing them while you are pregnant to rock your baby bump and even after your baby is born….or anytime in between!
The first ROCKMAMA range is called the 'Peanut' range, the nickname of my first baby at the first stages of my pregnancy.
The Birth Of ROCKMAMA
When I was pregnant, I noticed the only casual tee's on offer were blank and plain, or had cutesy pictures and slogans. I could not bear the thought of wearing something that said, "Due in September" or a tee with a picture of tiny foot prints printed on the front. At my Preggie Bellies exercise class, I would notice all the new mum's come back to class after having their baby with cool rock tee's, with vintage edgy prints on them, while the pregnant mums-to-be were wearing plain, striped or cutesy tanks in true mummy style. While bouncing on my Preggie bellies Pilates ball, that's where ROCKMAMA was born. I wanted pregnant women to be able to feel like themselves, and express their usual sense of street and chic style while pregnant, but still have the comfort, durability and length of a maternity tee. During my pregnancy, I had tried buying oversized tee's that were not maternity ranges, but the comfort factor was not as good as a tee that had been custom made for a pregnant belly. The extra long length to ensure when raising your arms your bump won't appear from under your tee. And that ideal stretch that allows your body to grow that will last you all throughout your pregnancy and beyond. The cut of the ROCKMAMA tee will fit and feel beautifully on a rounded tummy, but can also be worn after the baby bump has gone as a slouchy oversized tee. ROCKMAMA tees and tanks are also a great gift idea for your expecting wife, friends, sisters, daughters and more.
ROCKMAMA RRP $59.00
To view more go to www.facebook.com.au/rockmama000