Information on Laser Skin Treaments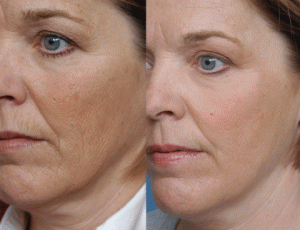 Sun damaged skin, Pigmentation caused by pregnancy or the sun and skin discoloration can be a horrible skin condition to have. Because it's your face it's common for women to get extremely self conscience about their skin. Laser is a great way to even out your tone and skin your skin the rejuvenation it needs and have your skin glowing in no time.
Beauty Guru Karen Connelly owner of Oceana Day Spa and Laser Specialist takes us through some questions on Laser Skin Treatments and some things you need to think about.
1.  What to look for in Laser Equipment?
Traditionally, most cosmetic procedures have been associated with lasers. As technology has progressed, research has shown that Intense Pulsed Light units, and in particular Variable Pulsed Light (VPL™) Systems, are regularly producing better results than the laser systems originally available. Pulsed Light units are non-laser, emitting light across a broad range of wavelengths that are preferentially absorbed by the appropriate structure in the skin.
For example: The Energist ULTRA™ System is designed such that each light pulse comprises a number of rapid shorter pulses. These 'variable pulses' ensure more controlled absorption by the appropriate structures whilst minimising heating of the surrounding skin. This means that a greater range of hair and skin types can be safely and effectively treated than was previously possible.
2.  How does it work?
Depending upon the treatment being carried out, light emitted from is preferentially absorbed by the specific structure in the skin. For hair removal, the melanin in the hair absorbs this light and is heated to a temperature that permanently inhibits the hair's ability to regrow. For skin rejuvenation, various structures can absorb the light and repair the damage caused by ageing and the sun.
3. What conditions can be treated?
Safe and effective hair removal and skin rejuvenation treatments.
Hair Removal: Unwanted hair can be removed from all parts of the body, including legs, chin, upper lip, bikini line, underarm, back and chest.
Skin Rejuvenation: Many skin complaints caused by ageing and sun damage can be successfully treated using the yellow light. This includes redness, age spots, freckles, pigment changes, skin texture and fine lines.
4.  What is the treatment procedure?
After a full consultation with a trained therapist, a comprehensive treatment programme can be developed to match your needs and requirements. Depending upon which treatments are to be undertaken the basic procedure will stay the same:
The area to be treated will be prepared and the applicator head will be moved across in steps to ensure complete coverage. Due to the large applicator head treatments can be performed quickly, which we know is important with today's hectic lifestyle.
5.  Is there anything I need to do prior to, or after, treatment?
It is advisable to stay out of the sun, and away from tanning beds, for at least 6 weeks prior to any treatment to ensure that your skin is as close as possible to its natural colour. You must ensure that all cosmetics are removed from the treatment area with a good cleanser and then allow the skin to settle. As the skin may be slightly more sensitive post-treatment it is recommended to use skin products developed for sensitive skin and again avoid sunbathing or tanning beds for several weeks.
Photorejuvenation
6. How does it work?
A light signal is sent to the body's collagen production system, this then enhances the rate at which the collagen is produced. Additionally, irregular pigmentation absorbs the light and some of the melanin producing cells are disabled thus evening out skin colour. Finally, fine vessels that have become apparent at the skin surface can absorb the light and be removed.
7. What areas can be treated?
This procedure works well over the face, neck, chest, legs, arms and back of the hand. It can also improve the appearance of thread veins, scars and pink stretch marks. We are also investigating the efficacy of the observed beneficial effects on active acne using VPL™.
8.  Are there any side-effects?
Due to the special parameters used there are little or no side-effects. The treatment has been likened to being flicked by a small elastic band, but the skin may go slightly red for a few hours. If the area is over treated then there may be a chance of some slight blisters or crusting, however, this will resolve in 5 to 7 days.
9.  How many treatments does it require?
In most cases you will see a result after 3 treatments but there is a significant improvement if the treatment is repeated routinely at regular intervals. There is no limit to the amount of treatments you can undergo.
10. How do I know if it has worked?
Your fully trained operator will be looking for specific reactions when undergoing a treatment. However, due to many interrelated physiological factors every individual reacts differently. The initial treatment will gauge what energy densities can be used to ensure an effective treatment. A review date will be set to assess the effectiveness of the treatments and then to make any amendments as required to the treatment protocol.
11. When will I see results?
A: As the improvement is gradual you will not see the result for about three months. Because you see yourself everyday it is difficult for you to recognise gradual improvements taking place. Thus, it is very important that good close-up photos are taken before the treatment and then upon review at three months, this will then show the improvement. Collagen can take upto nine months to fully mature so gradual improvements will continue over this time.
12. How often do you need treating?
After the initial treatment it is advisable to have a second treatment two to four weeks later. Depending upon age, severity of the condition being treated or amount of exposure to the sun, it may be advisable to have a course of treatments over a period of a year.
13. How many treatments can I have?
There is no maximum amount of treatments that can be undertaken; this can be seen as an ongoing skin care programme.
14.  How long do the effects last for?
A: This depends on your lifestyle. However, improvements can continue over several months. The post treatment recommendations from a fully trained operator will provide you with a skin care regimen that will help maintain improvements.
15.  For fine lines and wrinkles how much does the collagen increase by?
We cannot measure the amount of collagen produced due to everybody having a differing base level. But there will be a substantial increase in the rate of collagen production.
16. Where is the collagen produced?
New collagen is produced in response to an injury or surgery. Laser "tricks" the body into believing it has been injured and thus starts producing new collagen.
17. Who can be treated?
The ideal age range for this treatment would be anybody up to the age of 60 years old. If you have a suntan it is advisable to wait until you are back to your base colour before undergoing treatment.
18. What photo skin types can be treated?
Fitzpatrick Skin types I-V are safely treated with no reports of any adverse affects on type VI skin. However, it is not recommended to treat Type VI skin.
19. Can this system be used with any other therapies?
Yes, the pulsed light works very well when used in conjunction with other treatment modalities. Such treatments include Microdermabrasion, Collagen or Botox injections, galvanic and soft peels.
20. How does it compare to CO2 and collagen enhancement lasers?
CO2 lasers are designed to burn off the top layer of skin, and thus stimulate new collagen production in response to this severe injury. Collagen enhancement lasers are specifically designed to target the small vessels to stimulate new collagen production. Laser is able to treat all the signs of ageing or sun damage effectively during the same treatment.