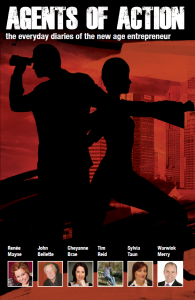 HELLO!
Welcome to our secret page for the one time only offer. You can buy the BEST SELLING book AGENTS OF ACTION for HALF PRICE. You will still get the bonuses valued at over $1600. Join the several thousands of people who have read this awe inspiring paper back book.
GIDDY UP
OVER 4000 BOOKS SOLD

* Do you have a burning desire to live a prosperous life?
* Are you an aspiring or inspiring Entrepreneur?
* Would like to learn from "real" people who have achieved "real" results?
* Do you need some ideas and strategies on what you need to do next?
Then you need AGENTS OF ACTION
and receive over $1600 of FREE bonuses for only $29.95 $14.95
It's Quick. It's Easy. It Works
A real life guide to inside the mind of Australia's new age entrepreneurs. Eleven influential business owners give you a rare insight to how they accomplished:
Turning a passion into a profitable and extremely fulfilling business
AGENTS of ACTION: Diaries of the New Age Entrepreneur.
Designed to help motivate and inspire you to take action and create your destiny and live your dream. Anything can happen when you are in the driver's seat.
When most people say why, you say why not?
It's Thought. Action. Result
Whatever you do, do something!
Own it. Live it. Love it
# BONUS 1: Postage and handling Value $9.90
# BONUS 2: Warwick Merry's Get More from the Next 90 Days eCourse eCourse Value: $247.00
# BONUS 3: Warwick Merry's Be a Goal Getter & Not Just a Goal Setter Webinar VWebinar49.00
# BONUS 4: Troy Harris's RepoHarris'screts of Simple, Safe & Successful Property Developing
Value $147.00
# BONUS 5: Sylvia Taun's ReportTaun'sEE Sales & Marketing Resources
Value $197.00
# BONUS 6: Bra Queen's eBook- How to Make Your Business Skyrocket
Value $197.00
# BONUS 7: Blue label life $100 voucher to use with their services plus a free upgrade upon joining
# BONUS 8: Powerful Prosperity Package by Sandy Forster
Value $375.00
# BONUS 9: Tim Reid's Brand Boffin Process where he uncovers the secrets to building a strong, healthy brand (personal or business).
Value $397.00
That's well over $1600 in bonuses for FREE….what incredible value
Make 2011 your best year yet. Jump in the driver's seat and live your dream.