# A guest post, by an anonymous contributor as a part of the 'How Real People Bust Out' a series of guest contributors sharing their journey's.
I miss the softness of your touch, the warmth of your embrace and the sparkle in your eyes. Sometimes I miss the man who I fell in love with and wonder will he ever return, or am I doomed to be with a man who once was?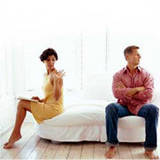 We were never suppose to be that couple, we said 'we can overcome all obstacles, but we can not settle for anything less than pure love'. When you are here you aren't actually here, when I speak you don't really listen, and when you do answer…. love is gone and the life that once was, what lingers in your voice is empty words and an aggravated tone. To hear the harshness in your voice is not what is the most concerning, its the fact that you don't know! and your completely oblivious to the fact, and refuse to think otherwise. I know you don't want to be this man! The question is 'will the day come?' when you realize that it doesn't have to be this way and you do have a choice.
When that day does arrive, there will be a willing, loving, sensual woman who is longing to love and support your journey.  To celebrate everyday with you, share with you, laugh with you, make love to you and too love and embrace all that is you. From the bottom of my heart and every inch of my soul, I am here waiting for the day to arrive when you walk through the door and I see that sparkle in your eye, hear the love and life in your voice and feel the warmth of your touch.