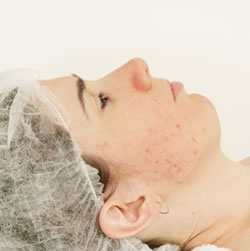 We associate pimples with training bras, braces and boy band posters, it's a myth that acne ends in your teens especially for women.
Research has found acne is quite common in professional women in their 20s, 30s and 40s. Adult responsibilities like jobs, kids, marriage and mortgage cause adrenal glands to produce more of the stress hormone called cortisol, which is then broken down into hormones that stimulate the oil glands.
Relationship stress also impacts your skin, a particular pattern of stress-related acne in female patients: 13 women whose neck and jaw-line pimples appeared between the ages of 26 and 29 all linked the spots to the break-up of a relationship. Another common time for women to get pimples in adulthood is during pregnancy and menopause.
Experts recommend watching what you eat….
Diet is key: eat a nutrient-rich, low-GI diet, this will help to balance the hormones and avoid sugars and fats like junk food and takeaway foods.
Healthy Diet= Healthy Skin
60 per cent vegetables of all colours
20 per cent complete protein (eggs, fish, poultry, yoghurt) 1
5 per cent complex carbohydrates (wholegrains)
5 per cent uncooked, first pressed organic oil (try flaxseed oil).
Facts on Adult Acne
Acne usually begins with blackheads: Blackheads are caused from oil and dead skin cells getting trapped in a pore and block the duct. They then turn black when exposed to air.
Note: Red pimples develop when blackheads become inflamed and they spread when touched with dirty hands. When the pimple becomes infected, it develops a whitehead. These can break and cause scars.
Treatment:
Instead of a grainy scrub try an exfoliant with alpha-hydroxy acids and avoid scrubbing too hard it causes inflammation. You can also use a salicylic acid cleanser as these products clean out pores better than scrubs.
Causes of adult acne As we said above stress, diet and hormones cause acne but also look at cosmetics and birth control pills.
Note: Most women when they get acne they put a bucket load of makeup on to cover it. This is not ideal for removing pimples
Treatment:
Reduce stress, look at other contraceptive options (ask your GP), use quality cosmetics, wear makeup that is mineral based so it doesn't clog your pores and clean your skin really well and NOT with soap.
Don't treat adult acne like the teen acne: The products you used as a teenager will not work on adult skin.
Treatment: Your skin WILL benefit from a good facial because acne is a condition of the skin and a good beauty therapist knows exactly what your skin needs.
A dermatologist will clear your skin up quickly: Women usually see a doctor for their skin problems for a quick fix. If you have basic acne see your local beauty therapist all you need is products to unclog pores and a product to remove bacteria on skin. For serious acne, a dermatologist has a wide of products to clear up your skin however these are usually much more harsh on the skin and can leave you with massive side effects.
Note: There is a wide range of options available to treat adult acne and pimples for example oral treatments, herbal medication, Antibiotics, Prescriptions and much more. First things first check:
Your diet
Your stress levels
Your skincare regime
Your body is trying to tell you something….listen.