Feel and look good on Valentine's Day
Valentine's Day is approaching and women everywhere want to look great on that day. If you want to impress your husband or boyfriend, look amazing for a night out, or just want to feel good about yourself on Valentine's Day, then here are some tips for you: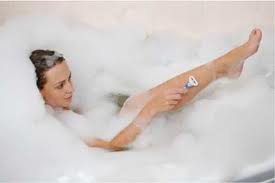 Body
* Take a long warm bath. Use bubble bath, scented bath salts, essences, or add a few drops of your favourite essential oil. Choose a bath product that not only leaves you feeling great but also relieves aching muscles or could be used instead of perfume later on.
* While in the bath, use a body brush to remove any dead skin.
* Relax for about 25 minutes in the bath, then step out and use a warm fluffy towel to dry off.
* Use body butter or moisturising lotion to make your skin feel soft. A lotion which is sparkly will give a nice glow.
Skin
* A good face mask will instantly brighten the skin, and leave your skin feeling clean, soft, and radiant. You can either make one or buy a natural mask from a skin care shop.
* Give yourself a facial massage to leave your skin looking beautiful and awakened with a healthy glow.
* To get smooth legs, make sure the bath is warm. Use a body brush to get rid of any dead skin cells and shave up your legs. Rinse your legs with cold water to close the pores and pat them dry with a warm towel. Moisturise with lotion.
Lingerie
* Determine your body shape. A pear shape is curvy and larger in the hips and thighs. A ruler shape is a fairly balanced shape with very few curves. An apple shape is one that is much larger in the chest than in the hips and thighs. They usually have a plumper middle and slim, toned legs
* Pear shaped women should look for clothing to show off their curves and tone down the thighs. A sexy chiffon gown or short chemise is perfect. Apple shaped women should try a sexy, uplift bra to give their bust a boost. Corsets are great, too. Women with ruler figures should try bustiers and corsets to add some curves.
Outfit
* Choosing an outfit is one of the hardest things to do on Valentine's Day. Pick one that's right for where you're going and what you're doing. An attractive, slightly formal outfit is ideal for a restaurant meal. Wear smart heels and a cute clutch purse to complement it.
* If you're going somewhere less formal such as a concert, show or to the cinema, try a skirt and a pretty top. Trendy heels and a large handbag go well with it.
* Don't forget jewellery.
Hair
* Use a shampoo that leaves your hair healthy and shiny, and use a moisturising conditioner. Treat yourself to a hair mask for extra gloss.
* If you have mid length to long hair, split your hair into two and plait both sides when still wet. Leave your hair for a few minutes before drying it. Make sure both plaits are completely dry, before removing the plaits. Your hair should look wavy, cute, and girly.
* If you have short hair, leave it loose and simply add an accessory like a flower or butterfly clip. Curl your hair if it's long enough and create some soft waves.
Make-Up
* A natural look is best, so avoid caking your face in make-up. Less is more.
* Run a soft pink blusher up your cheeks to the cheek bones.
* Wear subtle make-up on Valentine's Day. Pink make-up can make your eyes look tired, so choose a colour right for your eyes. Purple is great for green eyes, gold and beige colours for blue eyes, cooler tones for grey eyes, and browns and bronzes for hazel eyes.
* Curl your lashes and apply a little mascara on both your upper and lower lashes.
* Use a coral pink lipstick for a girly look or a rich red for a sexy, daring look. Apply clear gloss for a little shine.
Other Tips:
* Don't add lavender oil to your bath as it may make you feel drowsy.
* Wear what you feel comfortable in. Don't be pressurised to impress.
* Add a last minute dab or two of perfume before you go out.
* Relax for a few moments before your date arrives.
Post contributed for HairFree, Australia's Hair Removal Specialists, by Samantha Harvey.