Bipolar – Not Just a Celebrity Sickness
These days it seems like many celebrities are jumping on the bipolar bandwagon. Suddenly bipolar is trendy, almost glamourous, and used to excuse any number of unacceptable behaviours. But are those opening sentences fair? Do we have the right to accuse anyone of claiming a condition like bipolar, simply in order to excuse bad behaviour? In this article we explore some myths surrounding this debilitating illness. You might become less cynical after reading it.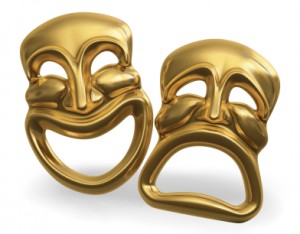 Bipolar Is Under-diagnosed
Perhaps the reason that Bipolar depression is increasingly hitting the headline is in part due to a realisation within the medical profession that it is hugely under-diagnosed. Moves are being made to make doctors more aware of the condition, and spot the symptom earlier. As with many syndromes, symptoms are open to interpretation and can present over a number of years – or conversely present so rapidly that they are missed altogether. Not easy to spot then. But that doesn't mean it's impossible. So just what are the symptoms doctors look out for when trying to diagnose bipolar disorder?
Type I & Type II Bipolar Disorder
Type I Bipolar disorder is what used to be termed 'manic depression'. This is easier for doctors to spot because the symptoms are fairly extreme. The sufferer's moods can change from deep depression to wild elation, and extreme, destructive behaviour. Britney Spear's 'meltdown' was a classic example of a bipolar sufferer in trouble. Her reckless, wild and self-destructive behaviour showed someone totally out of control, and unable to look after themselves. But whilst it makes headline fodder for tabloids, a genuine tragedy was playing out before our eyes. If she had been a friend of y
ours and not a celebrity she would have had our compassion. Her condition led to her losing custody of her children, shaving off her hair and humiliating herself, in public, before the world's paparazzi. All the time she was suffering from a debilitating illness, which was driving her actions, and from which she was powerless to control. But compare Britney then to Britney now. She's calm, in control and back on the tour circuit. She has her children back and is in a successful relationship. This is a testament to the efficacy of bipolar medication, which can be highly effective. So let's look at some typical symptoms of this condition.
Bipolar Symptoms – 'Manic' phase
A heightened sense of self-importance or 'grandiosity'
An exaggerated positive disposition
A decreased need for sleep, and difficulty sleeping
Poor appetite
Weight loss
Racing speech, thoughts and flights of ideas
Impulsive, risk-taking behaviour – excessive drinking, promiscuity etc
Poor concentration and easy distractibility
Vastly increased activity level
Excessive involvement in pleasurable activities
Poor financial choices and ill-advised spending sprees
Excessive irritability
Aggressive behavior
Bipolar Symptoms – 'Depressive phase
Deep feelings of sadness or hopelessness
A loss of interest in pleasurable activities
No longer interested in previous interests
Difficulty in sleeping
Early-morning waking
A loss of energy; constant lethargy and low activity
Feelings of guilt; low self-esteem
Difficulty concentrating; memory loss
Negative thoughts about the future
Weight gain; weight loss
Thinking or talking about suicide or death
That's quite a list of suffering isn't it? It's not something anyone would want to lay claim to, celebrity or not. The difficulty with this list, and the diagnosis of the condition is that it's not quite as clear cut as the list suggests, which is why it has been missed by so many doctors.
Type I & Type II Bipolar
The list above seems pretty clear cut. In Bipolar Type I they can present as such, with great highs and great lows, which are clearly distinguishable. We can notice – as with Britney – the erratic and self-destructive behaviour. Buying a new suit when you're on welfare, believing you can conquer the world and taking unholy risks with your safety are hard for friends and family to ignore. But Bipolar Type II is more subtle. Patients usually present to their doctor in the depressive phase, which is why they are diagnosed with simple depression. The 'manic' phase is less common and less extreme in Type II Bipolar, and this is why it is so often missed. Depression is the most common and pervasive symptom. When the depression lifts, a heightened mood is seen as a natural consequence of this, and overlooked. These mood shifts – known as 'cycles' – can be rapid, sometimes several in a day or a week – and this is another reason that they are missed. Whilst it would be easy to dismiss Bipolar II as a 'milder' version of 'Manic Depression', the opposite is in fact true. Bipolar II sufferers have been shown to have worse outcomes over their lifetime, and be much more at risk of suicide than Bipolar I sufferers. It is certainly not an illness to be ignored.
The Good News
If a doctor is able to question the patient closely and in detail, hopefully the condition can be diagnosed accurately. The good news is that bipolar responds extremely well to drug treatments. Drugs which are used to treat epilepsy are found to be highly effective in re-establishing evenness and balance in moods, allowing the sufferer to regain control of their lives and enjoy the things that other people take for granted.
Next time you see that a celebrity has been diagnosed with Bipolar disorder, just remember Britney, losing her children and losing control. It's no joke, and sufferers deserve our support and encouragement until the right treatment for their condition can be found. And if you suspect that your depression may have been misdiagnosed, mention it to your doctor and ask for a proper assessment. Don't suffer in silence.
Some great resources are available at The Black Dog Institute and Madam Bipolar has an incredible blog you must check out.
—–
Amy Watts is a professional writer and amateur motivational speaker. While her work covers all aspects of healthy living (both body and mind) and works with a number of eco-friendly companies, she also has a sideline in travel writing and can frequently be found sunning herself on Mediterranean cruises and enjoying a cocktail or two at sandy beach bars.